The Comprehensive Guide to Filling Machines
Filling machines are an integral component of many industries, ensuring that products are packaged efficiently, accurately, and safely. From food and beverages to cosmetics and chemicals, the right filling machine can make all the difference in production quality and efficiency. In this guide, we'll delve into the world of filling machines, exploring their various technologies and determining which products are best suited for each type of equipment.
What is a Filling Machine?
A filling machine is a device used to fill containers with a specific quantity of product. These machines can be manual, semi-automatic, or fully automatic, depending on the production requirements. They play a crucial role in ensuring that products are packaged to the right quantity, maintaining consistency and quality.
Industries That Rely on Filling Machines
Food and Beverages
Over the decades, the rotary monoblock has seen a plethora of technological innovations. Modern versions come equipped with advanced sensors, ensuring precise filling and capping without wastage. The integration of automation and artificial intelligence has further enhanced its efficiency, allowing for real-time monitoring and adjustments, ensuring optimal performance.
Cosmetics
Lotions, creams, shampoos, and even perfumes are packaged using filling machines. Precision is crucial here, as overfilling or underfilling can impact the product's efficacy and customer satisfaction.
Learn more about Geninox Filling Machines
Chemicals
Whether it's cleaning agents, solvents, or industrial chemicals, filling machines ensure that these potentially hazardous products are packaged safely and accurately.
Different Technologies in Filling Machines
Gravity Filling Machines
Ideal for thin, free-flowing liquids, gravity fillers use the force of gravity to fill containers. They're commonly used for water, thin sauces, and solvents. Learn more about gravity filling machines.
Piston Filling Machines
These piston filling machines use a piston to draw and dispense product into containers. They're versatile and can handle products of various viscosities, making them suitable for foods like jams or cosmetics like creams.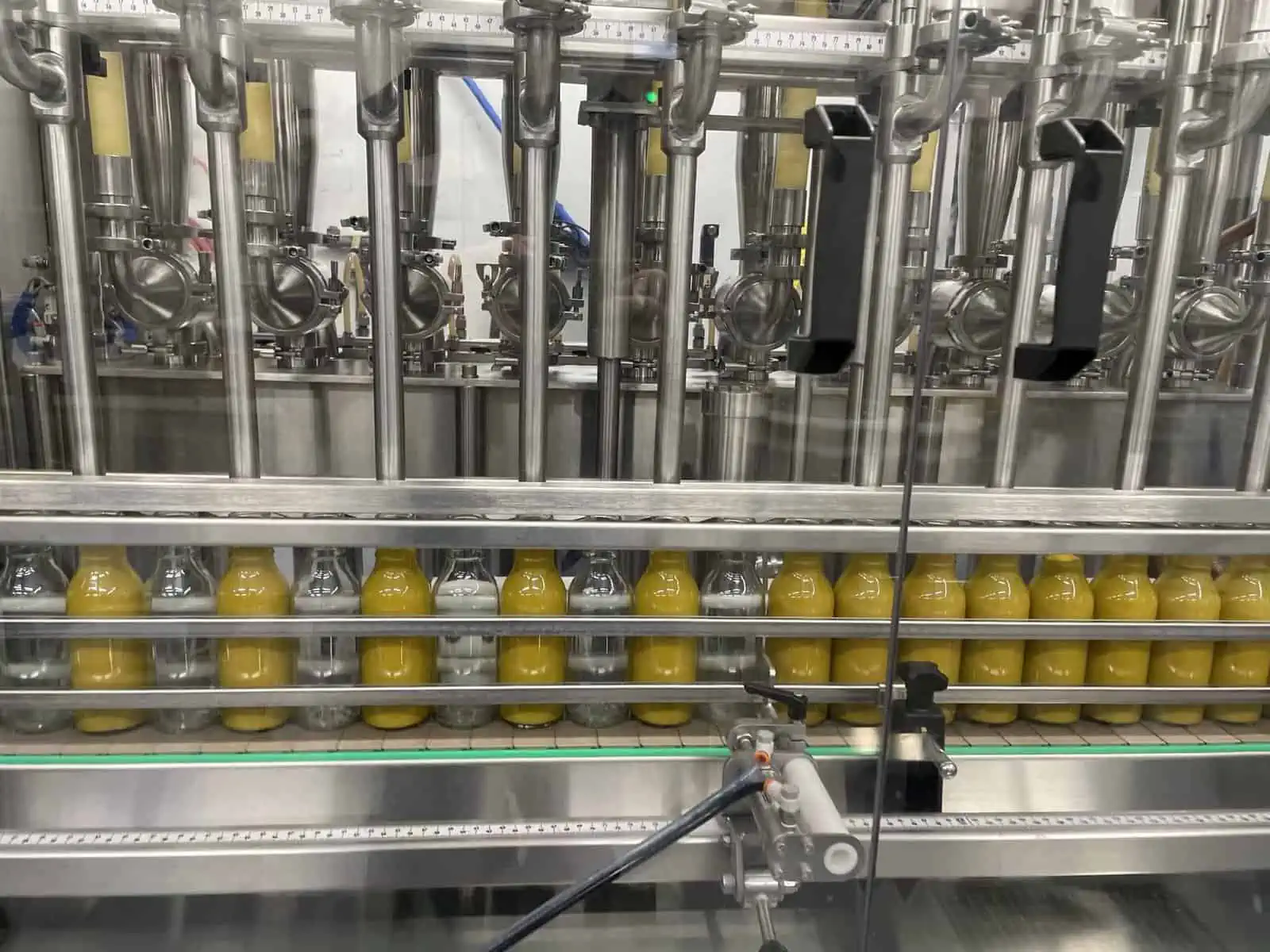 Overflow Filling Machines
Perfect for products that need a consistent fill level, overflow filling machine are often used for clear bottles where fill accuracy is visually important, such as bottled drinks or perfumes.
Peristaltic Pump Filling Machines
Commonly used in the pharmaceutical and biotech industries, these fillers are designed for high precision and to prevent cross-contamination.
Net Weight Fillers
These machines fill containers based on a set weight, making them ideal for products sold by weight rather than volume, such as certain chemicals or bulk foods.
Matching Products with the Right Equipment
Food and Beverages
Thin liquids like water or juices: Gravity fillers
Viscous foods like jams or sauces: Piston fillers
Bottled drinks: Overflow fillers
Cosmetics
Creams and lotions: Piston fillers
Perfumes: Overflow fillers
Serums: Peristaltic pump fillers
Chemicals
Cleaning agents: Gravity fillers
Industrial chemicals sold by weight: Net weight fillers
Conclusion
Choosing the right filling machine for your product is crucial for maintaining quality, efficiency, and customer satisfaction. By understanding the different technologies available and their best applications, businesses can make informed decisions that will benefit their production lines and their bottom line. Whether you're in the food, cosmetics, or chemical industry, there's a filling machine out there that's perfectly tailored to your needs.
Acquire High-Quality Bottling Equipment
From layout and machine placement to material flow optimization, there are several key factors that play a crucial role in ensuring smooth operations. However, the perfect production schedule can't be achieved without the implementation of state-of-the-art bottling technology.
Geninox can help you improve your bottling line set up with the cutting-edge machinery you need to gain an edge in this competitive industry. Thanks to our bottling equipment, you can maximize efficiency while minimizing downtime, ultimately resulting in increased productivity, reduced costs, and improved customer satisfaction.